Final Project 2021 sponsored by TechnicoFlor
This year, our 2021 class was challenged on the following theme:
Responsible perfumery and more precisely on the notion of upcycling. 
The idea for our 12 students, was to create an eau de toilette and its scented declination in solid format. They had to integrate the upcycled ingredient of wheat bran into the composition of their creation, as well as responsible raw materials  from TechnicoFlor's "Better Tomorrow" program: Rose, Iris, Ylang-Ylang, Sage Officinale and Vetiver.
To realize this, they had to use all of their knowledge and skills acquired during the intensive year at the school. Even though technical aspects are important, creativity and originality are equally so. 
On Thursday January 27, our futur perfumers were be able to present their first creations in the videoconference closing ceremony, to the TechnicoFlor jury. 
And the winning group was: DREAMTELLER! Congratulations to our winners Ali SAIF from Denmark, Gabriela SANTANA from Brazil and Antonio SCHIAPPA from Portugal for their composition inspired by the biblical and koranic story of Joseph, where wheat is an essential element of the tale.
An enveloping scent which begins with an invigorating cardamom and cinnamon, soon a comforting delectable milk nuance unfolds. Slowly, a powdery orris reveals itself, complementing a cereal accord built around the upcycled bran absolute. The creaminess of sandalwood duels with the smokiness of the vetiver. Vanilla and silky musks round the fragrance for the ultimate dessert sensation.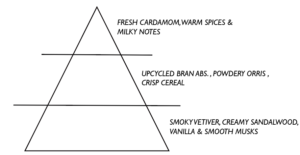 Thanks to the jury composed of: 
Caroline CATHERINE, Marketing and Evaluation Manager
Marie-Caroline SYMARD, Perfumer
Our gratitude to the TechnicoFlor team for their support and advice to the students throughout the year!
Congratulations to our 2021 class, it was a pleasure to work with them and TechnicoFlor !!!
Below is the complete presentation of the final project: